Brand Strategy
mini Course
AN ECOURSE FOR PRODUCT MANAGERS READY TO NAIL THEIR BRAND
STRATEGY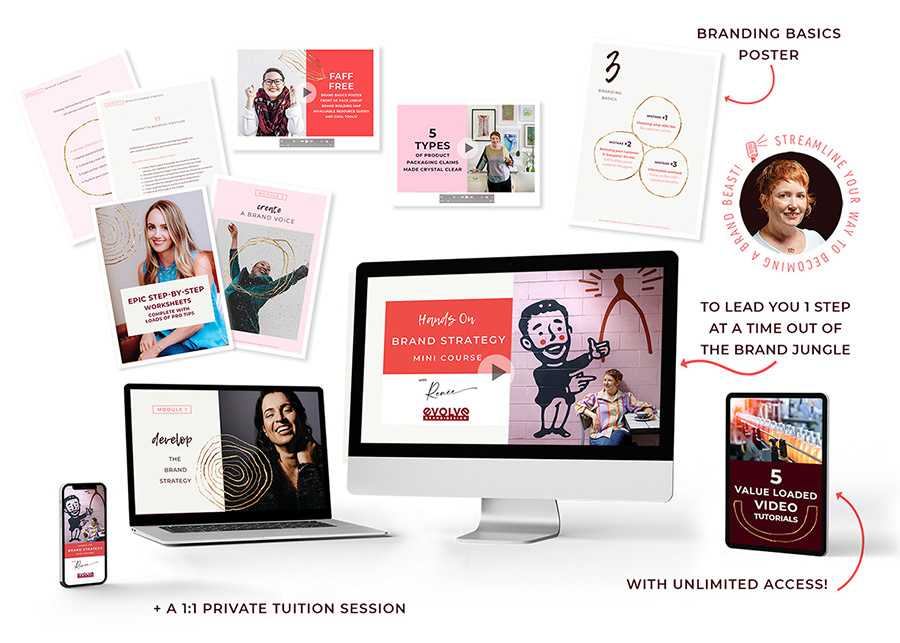 If you have a brand strategy that's not cutting the mustard?
How to stand out in a competitive category?
Why you're struggling to post quality content on social media?
You can
stop winging it. 
Empower yourself with my practical brand strategy clarity mini course.
Watch each easy-to-follow short and sweet video module. Then open your worksheets and do the snippet of work. At the end you can booked in for some personalised 1:1 help and extra training.

When you join you'll get instant access to the entire course, a bunch of bonuses and an invite to the private Facebook group. Easy, huh?
 What will brand strategy clarity do for you?
» Increase the value of your intellectual property
» Help your brand compete against large brands
» Attract long term consumers who become valuable brand advocates
» Creating social media content will get easier
» It will reduce promotional costs
» Clarity and certainty you've got your brand sh*t together. 
• 5 x jam packed video tutorials that will lead you one step at a time out of the brand jungle
• EPIC step-by-step worksheets (complete with loads of 'pro tips')
• 5 x Types of product packaging claims made crystal clear + what FSANZ expects
• Mentoring and support from me, including a 1:1 private tuition session 
• An exclusive VIP offer with an inventory of everything your brand needs to relaunch
+ more to help you streamline your way to being a brand beast genius!
+ Branding Basics Poster, Brand Building Map and ideal front of pack line-up.
+ Invaluable resource guides for barcodes, label printing and lingo and useful tools!
+ Private VIP group of like minded souls tackling brand dilemmas you're facing.
Brand Strategy Mini Course
Content
1. Identify your brands most lucrative market placement position 
2. Uncover a simple way to connect with your potential consumers
3. Create a clever way to capture consumers attention
4. Nurture your target audiences big concerns
5. Brilliant brand name generation formula
6. Develop an authentic brand voice, unique style and colour palette
No skimming over strategy here…
Bit-By-Bit: Inside an members-only area, be guided through creating your brand strategy 
Video Tutorials: Value-loaded and engaging video tutorials – with unlimited access!
Action Packed: Four practical modules of hands-on and easy to learn content
Step-By-Step: Apply the video learnings to your own brand in the guided worksheets
Private Tuition: Book in 30 minute 1:1 Zoom session for extra training or whatever you need
Your Schedule: This 'no bull' mini course is online so you can work at your own pace
What Else? Instant access to entire course + private Facebook group for 24/7 help.

Watch the short video for each module. Take it slow or wizz through quickly, totally your choice.
The mini course comes with handy easy to follow worksheets so you can action what you learn.
You can ask anything in the private Facebook group 24/7 and book in for a free 30 minute tuition session.
Have you ever wondered why some brands succeed and others fail?
Have you ever wondered why some brands succeed and others fail? When I say 'succeed' I mean SELL and GROW.
You know the brands that seem to be adding variants to their range faster than you can onboard a new retailer, exporting to overseas markets like it's a piece of cake or launch ultra cool 'test products' and all the while their brand image feels like it's consistent and 'on message'. Infact it's as if the brand is everywhere?
I've been launching brands for couple of decades now and I notice they're gathering dust. Usually the brand is underwhelming, the label messaging doesn't quite cut through and there's no shelf stand out. With only a split second to catch consumers attention the moment must be seized before the shopper moves on.
By the time people reach me they're usually disheartened, having tried a couple of different avenues to build they're beloved brand image. They've had labels designed 'to just get out there', had a logo designed but never really sure if it was good enough and built a website. But not much is selling.
Over the years I seen this SO MANY TIMES and one thing that is glaringly obvious to me is that they never have a brand strategy. Never.
Maybe your in a similar situation right now? Maybe you're thinking what the heck is a brand strategy? Or 'oh yeah, I don't need all that, I JUST need a label'. Sure you can wing it, but a brand strategy is THE VEHICLE that reaches into the heart and soul of your consumers? And when it's done right, is VERY POWERFUL.
OVERVIEW:
The Purpose & Power Of A Brand Strategy

MODULE 1:
Developing The Brand Strategy

MODULE 2:
Choosing A Brand Name

MODULE 3:
Creating A Brand Voice

MODULE 4:
3 Packaging Design Basics
PLUS an Exclusive Offer!
Just incase you want to relaunch the whole brand eco-system.
*GST is only added for Australian residents
Prices are in Australian Dollars
"Honestly I thought my brand was pretty good until I did this course, it made me see the big gaping holes in my branding. The course was easy to follow. I liked the videos – Renee explained everything clearly which was really helpful."

Susan Hopetown
NUTZ ABOUT NUTS
"I'm so glad I did this course – I knew my marketing was in a mess, I just didn't know where to start. The strategy course helped me to tackle each part bit-by-bit and now I feel ready to redo my packaging but this time I'm not guessing. Thanks a mil Renee.

"I did the course in 2 weeks and I got to say I'm just so relieved I have a clear pathway for the product range (vege chips) I'm launching. Now I can post on socials using my new authentic brand voice and the content I wrote in the course is gold!"

Gerry Hassell
VEGOUT CRISPS
 A brand manager or business owner, ready access your customers in an authentic way?
  Seeking brand stand out on shelf, online and against your competition?
  A genius at making or marketing, but can't strategise a crayon away from a three year old?
  Bored to tears wading through all the conflicting advice online and just want to learn from a pro that gets you, your unique situation and the struggles that you face everyday?
  A brand manager or business owner wondering what the heck you'll post this week, month or year?
 Sick of paying a marketing manager and want to learn do it yourself instead? (this is a good place to start)
  Don't know how to brief your graphic designer?

  Longing for the kind of brand that people remember – and talk about? 
  Are a bit of a control freak and just like to DIY?
If you answered, "Yes", "That's me" or "HECK YEP" to any of the above, or you just can't face another year of floundering, you're going to LOVE the Hands On Brand Strategy Mini Course.
You may want to click away if…
>> You're not a brand manager or business owner of a food or beverage product.
>>  You're already creating awesome product branding that's walking off the shelf and can't imagine a world where your brand strategy could possibly be improved.
If this is you, then don't worry I'm stoked for you.
But the Hands On Brand Strategy eCourse probably isn't the right fit for you.
STRESS LESS
Remove the risk of making costly mistakes.
SAVE HEAPS
Create a brand strategy your way. No need to outsource.
NO TIME PRESSURE
Work at your own pace and fit in with your schedule.
GET IT RIGHT
Stop winging your brand values, essence, style and voice.
To ensure I can provide you with the very latest best practice for your brand strategy I have a Facebook group. The group allows you to ask questions and get help with anything related to your brand.
I'm there and the group is great for private unbiased advice. 
WHEN DOES THE COURSE START?
Once you pay you'll get an email with instant access to begin whenever you're ready.
DO YOU OFFER REFUNDS?
Well no, it's an eCourse so no there's no refund. 
WILL I COME OUT WITH A LOGO DESIGN?
The Brand Strategy Mini Course is created to get you clarity and direction. It's not a 'how to design a logo course'.
HOW WILL THIS HELP WITH MY SOCIAL MEDIA POSTS?
Your brand strategy will give you content which you can copy and paste into multiple posts. It will be unique to the products you are promoting so you can turn snippets of the work you do into genuine authentic social captions. 
HOW LONG WILL I HAVE ACCESS TO THE COURSE?
As long as you want. There's no time limit.
Woohoo let's elevate your customer connection. 
Take the stress out of creating a brand strategy and stop wasting your resources.
Having second thoughts about a DIY Brand Strategy?
Perhaps you would like to me to do it for you. If this is you, please feel free to contact me.
I can be hard to catch so email is usually best.