Want customers knocking down your door?
You don't need to be on the Google ghost train. Get on board and discover the best ways to improve SEO rankings – step-by-step.
Happy humans running through the fields to make an appointment or jamming your phone with enquiries, would be a dream – right?
Of course! Find out how to….
Unlock SEO mysteries one at a time
Take practical actions to boost your SEO today
Implement 6 Best Ways To Improve SEO Ranking
In short, you need to start with a solid website foundation. You'll want it to be set up on the back end to be as attractive as possible to the search engine algorithm. Follow the six steps below and you'll know your SEO is working because business will be bustling.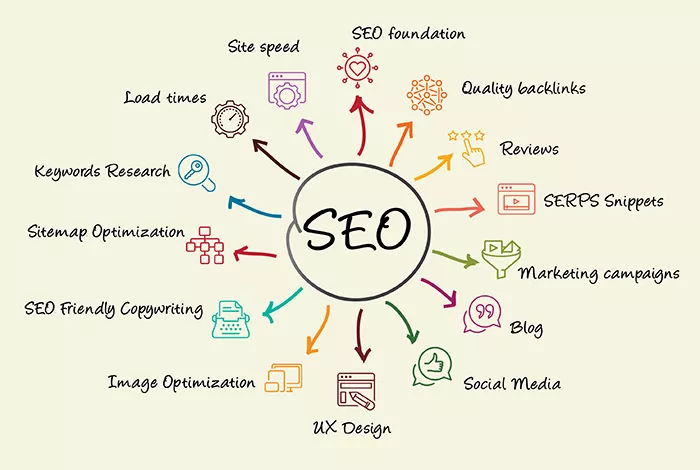 Why
 Would You Want To
Improve SEO Rankings?
There are two ways to attract people to your website:
1. Paid Ads
2. SEO
With paid ads the traffic stops when you stop paying. With SEO, once setup, it lasts forever. FOREVER.
Let's start with the
SEO Basics
1. S-E-O. What do those 3 little letters mean? SEO = Search Engine Optimisation
2. Search Engines, like Google, serve up the most relevant information they have, for the search term entered. 
3. Optimisation? Think of it like a magnet for the Google algorithm, creating content worth gravitating toward.
SEO is a long term marketing strategy – that starts with your website. 
Getting on page 1, in positions 1-5, in the local pack or a feature snippet – will attract new customers to your business. Even if you are position 9 – at least you're on the first page. SEO is the single easiest way to get new clients.
What Are SERPS?
Seach Engine Results Pages
Google algorithm serves the user a whole heap different results depending on what's there to choose from.
No one really knows, but word on the street is that, there 200-300 factors that the algorithm considers when ranking a website. Try not to go into overwhelm. This is why I am only writing about the absolute Best Ways To Improve SEO rankings.
Types of SERPS
The most common is the 10 standard organic search result snippets and paid ads.
You might also be served Rich Snippets, Featured Snippets, Carousels, Related Questions, People Also Ask, Shopping, Images, Videos, Knowledge Graph and more.
New types of results are added frequently. Google is full of surprises. Not all of them are welcome. Not all of them help us to optimise SEO.

The
SEO Breakdown
Google is always changing the SEO goal posts. What we can count on is that SEO is about getting the right balance of  On Page SEO and Off Page SEO. There are main four aspects:
1. Technical
2. Content
3. Links
4. Social media
On Page SEO
Elevating your rankings starts with having a website built with an SEO foundation. 
How a website is developed and functions, will have a massive impact on  its SEO. 
This involves setting up the front and back end of the website to attract organic traffic. The best way to do that is by building with a tech savvy base and alluring content. 
Technical:
– Build the website on an SEO favoured platform  >> WordPress is the best – in my opinion
– Site speed is a primary concern for Google  >> choose a good hosting company
– How each page is designed impacts on the overall size  >>  and load times 
– An SSL Certificate makes your site more secure >> good host will include it for free
– SEO software (Yoast, Rank Math, All In One SEO) >>  Installed and setup 
– Connect the Google Search Console  >> an absolute must!
– Ensure the permalinks (url's) have SEO friendly names
– Review and fix crawl blocks stopping the algorithm from indexing the site.
Content:
Choosing the right keywords will become the backbone of all the content on your website. There is no science to this, it takes time and it's crucial you get this right. It involves research and making an informed choice. Understanding the data is important.
The Keywords
– Look for keyword phrases that your customers search for and have high 'search volume'
– Look for keyword phrases that your competitors are not using
– Identify 'gettable' keywords by:
✓ Researching the DA of competitors going after the same keywords
✓ Consider the 'difficulty score' (find in professional SEO software)
✓ If the Cost Per Click (CPC) is high, it indicates the keyword is popular
✓ Check the 'trend graph' for the past year – consistency is best
✓ Review the top 3 websites already ranking for that keyword
✓ Consult professional SEO tools like SEM Rush, MOZ and Ubersuggest
✓ Try less professional SEO tools like Keywords Everywhere.
ACTION ALERT:
Discover some of the delicious data above with Keywords Everywhere. I wouldn't say it's the best SEO tool in the world, but you definitely get a sense how the data works.  Plus it's only $10 for 10, 000 credits! 
The Copy
Interesting, engaging copy that people want to read is VITAL. That's because google favours (and ranks better) those website when people who dwell.  Most websites make people yawn. Do that and your valuable visitor will disappear, never to be seen again! 
Here's a few of SEO copywriting basics:
✓ Embrace the brand voice
✓ Using conversational language keeps it casual
✓ Write like you're talking to the client not the queen
✓ Regular pages should have a minimum 300 words
✓ Aim for 1800 words on blog pages
✓ Write meta titles and descriptions integrated with your keywords
✓ Never ever duplicate copy, scroll down for my info on this point
✓ Work inbound and outbound links into the copy on every page
✓ SEO friendly copy is written both for humans + the search algorithm
The Images
Interesting, engaging copy that people want to read is VITAL. That's because google favours (and ranks better) those website when people who dwell.  Most websites make people yawn. Do that and your valuable visitor will disappear, never to be seen again! 
– A website without optimised images will be slow and sluggish  
– Images need to be optimised before AND during upload to the website 
– Format and name all images the way Google likes them 
For lots more details scroll down to my 6 Best Ways To Improve SEO Ranking – No. 4. Chuck Out Chunky Images.
Creating Content Process
1. Research keywords customers are most likely to use 
2. Select the most viable, gettable keywords
3. Allocate the a keyword or focus phrase to each page
4. Write copy following SEO copywriting basics for each page
5. Write click-worthy meta titles integrating the keyword
6. Name images (using the keyword) and optimise for SEO
7. Design and build each page
Off Page SEO
After the website is built with an SEO foundation, you'll want to lead humans to there. Do this with 'Off Page SEO' digital marketing.  
Off Page SEO activities are performed in an on-going capacity. They employ a range of long term strategies. These are a combination of link building actions and social media marketing campaigns.
Building Lovely Links:
Link building is a vital part of any SEO strategy. It can be define in two ways:  
Basic Link Building: most people do these activities themselves 
Advanced Link Building: marketing activities best done with SEO or Digital Marketing specialist. 
Best Ways To Improve SEO Via Link Building:
– Get backlinks pointing to your website from other reputable websites  
– Aim for links to a range pages on your site not just your home page 
– Attract backlinks from media campaigns, guest blogging, podcasts, video's  
– Start a blog on you website and make sure it links to lots of sites with good DA's 
There are two things you can do (for free), to start building brilliant backlinks.
Being connect to the Google Search Console is undoubtedly, one of the most important SEO actions you can take. Once connected you will have access to loads of Google goodies. It will tell you how, when and from where your customers are finding your business. To get connected your first need to setup up your Google My Business (GMB) page. It's free ad online and this is where lots of potential customers will find your business. 
ACTION ALERT:
3 Steps to Google My Business
1. Setup Google Account  – https://business.google.com/create
2. Verify the business with Google , you'll get a postcard via snail mail 
3. Add all the extra details to get most out of your free ad. 
A GMB listing can include loads of useful info that customers love:
✓ Contact details with the direct 'click-to-call' button
✓ Opening hours
✓ Your address with a link to Google Maps to help find you
✓ A link to your website – this is a backlink and a lucrative one too!
✓ Photos – include staff and premises (use real images not stock library photos)
✓ Reviews – ask clients to write Google reviews, they're a trusted source
✓ Products with links to your website store
✓ Extra information such as parking, appointment details, health & safety practices
✓ Questions & Answers (you can have 3 opportunities to impress here)
✓ Write some blogs, post them to your profile and Google will link them to your site
Getting a business found in the local market can be challenging.
Competition saturation from businesses with massive marketing budgets means you can get lost. Getting connect to Google will be one of the best ways to improve SEO. 
ACTION ALERT:
Create Business Profiles Everywhere! 
To start building your backlinks, setup your business profile on as many online directories as possible. This is called building citations and it's the best place to start growing your online presence. 
Social Media Must Do's:
Your day-to-day social media activities spread awareness and generates engagement with your brand. It doesn't have a direct impact on organic Search Engine rankings, even if the posts are active and relevant to your customers. Nevertheless, the indirect impact to your brand can be AMAZING. Especially if you're using a targeted marketing campaign!
Here's some tips on ways to improve seo ranking using your social media channels.
✓ Keep your social media fresh, frequent and interesting to your customers
✓ Have a strategic plan sprinkled with spontaneous posts
✓ Mix up the types of posts videos, images, texts
✓ Engage a professional to create strong marketing campaigns 
6 BEST WAYS TO IMPROVE SEO RANKING
Basically successful SEO is a combination of many activities. High ranking search engine optimisation is complex – there's no way around that. Follow below my 6 Best Ways To Improve SEO and you'll be well on your way to position 1!
1.
Pay For The Host With The Most
2.
Choose The Right Keywords
3.
Create Contagious Content
4.
Chuck Out Chunky Images
5.
Connect With Google Goodness
6.
Tell People About Your Business
1. Pay For The Host With The Most
Choose a great host – the very best you can afford. Web hosting services are recommended by our preferred hosting partner, Siteground as they are are fast, secure and have outstanding support. This is our Siteground affiliate link. Also good are Ventra IP and WP Engine.
Then, setup the back end just the way the search engines like it. Be sure to install an SEO software AND configure it correctly for your website needs (Local SEO or E-commerce SEO).
2. Choose The Right Keywords
After you've done the research (try not to fall down the rabbit hole!), choose a the right keywords and gear the page for that topic only.
So how do you choose? Well, …
– Remember to identify your searcher intent
– Subscribe to professional SEO tools like SEM Rush, MOZ or Ubersuggest, they also have tutorial videos.
And if you're writing a blog, choose long tail keywords that are often searched (easier said than done) .
3. Create Contagious Content
First, gone are the days where 'loading keywords' into your website copy will help your SEO. Google is smart and actively goes against indexing sites that use this method.
Second, dwell time is reeeeaallllly important to Google. Make sure whatever your write makes people read it – so they 'dwell' longer on the page. Write like you LOVE the topic, make it interesting, if your copy is boring viewers will just click away. Goodbye! You've lost them and likely they'll never return. 
Third, the most important piece of information when copywriting for successful SEO is to write unique copy. Always, always, always write new copy – never use duplicate content. This means: don't cut and paste a piece of text from anywhere else on your website (or someone else's website). The same applies for url's and meta titles. Trust me on this one, don't be tempted to be a Google rebel, follow the Google rule.
Check out how we turn our clients websites into inspiring and alluring places where customers want to spend their precious time. 
4. Chuck Out Chunky Images
Before adding an image to your website you need to give it a meaningful name – never name images like this: 'image004.jpg' it should include your longtail keyword for that page and a description of the contents. Then upload it to your 'Media Library' AT THE RIGHT SIZE. Before you do, always run it through a program like Jpeg Mini to reduce the size. 
Don't upload the image at large size then change it in the media library – this will not help your SEO at all. Once the image is loaded at the optimum size fill in the meta title and  alt text with your include your longtail keywords. Then fill in a description of the image contents. Be sure to write all these in 'lower-case-with-hyphen-like-this'. Filling in this info helps with your SEO.
Never upload a video directly on to your site. First upload it to You Tube then embed it into your site.
5. Connect With Google
Your courtship with the Google Search Console is critical to your SEO success. 
First you will need a Google My Business (GMB) account. This is a great feature that gives your business a 'double hit' when the user searches with your business name. Yay! 
The only hitch is that they want to know YOU are the business owner and so YOU need to set it up. Don't worry its super easy. Google just wants your basic info and then they will send you a verification code via snail mail. Pop in your verification code and you are done. 
Put a fair bit of effort into making your GMB page awesome. 
6. Tell People About Your Business 
Think all kinds of digital media. Social media, blog writing, guest blogging, email funnels, podcasts and posting video's to You Tube. Include a link to your website, in the copy or transcript every time you do some type of promotion.
One last word of advice, a website that has constant activity is attractive to Google. It can be the kind of activity that you OR your audience create. You may add a new page or post a blog – with your SEO setup, or reply to a comment if a viewer has left you a comment. Your audience may just visit a page on your site (or the blog), click on a link in your blog, send you an email via the contact form, sign up to your database, share your product or blog article on social media. Creating opportunities to interact with your website will help improve its rankings.
My Last Word(s)
If you are struggling to implement my SEO tips then you may like me to take a look at your website. See my website packages, starting prices and inclusions.
Finally, having a website with SEO is not a set and forget function. Once it's built you can continually increase your rankings by ensuring your website is active. This means adding blog posts, news, awards. Google loves that! Regular monthly maintenance is an absolute must, as a neglected website is not favoured by the Google gods.
At Evolve Brand Design I love creating beautiful websites built with an SEO foundation. Please contact me if you need a new website.