I offer award winning designs, international experience and product marketing services, that don't cost the earth.
When you work with me at Evolve Brand Design, you may find…
• I'll want to talk a lot about you (not me)
• I'll ask a lot about your brand values
• I'll spend time getting to know your business and products
Yes, you might say I am nosey! But my questions provide 'light bulb moments' that come to fruition once the creative process begins. Ultimately I will also get a sense of your energy which inspires a brilliant brand transformation.
painter + gardener + crafter
What about who I am – really? Firstly, being creative in my work life is simply not enough. Creativity rolls over into most aspects of my life. I find myself painting watercolours, textiles and designing gardens. Eight years ago I started a craft group called Handmade Hussys and we are still going strong.
I am also developing a range of greeting cards. You can see some of the water colour paintings on Instagram: @Evolvebranddesign. The cards will be quirky and funny for those moments when you need to say something simple, sweet and heart felt.
Despite being creative I work best with systems and structure. I love a challenge, the bigger the better! But I think it's more important to know that I am reliable and easy to deal with on a daily basis.
I have worked for the big brands and big agencies but these days I prefer to work for myself.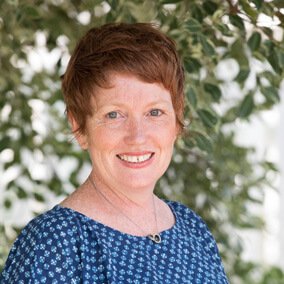 CREATIVE + ON TIME + WITHIN BUDGET
I am the creative director at Evolve Brand Design. I have over 25 years industry experience with a core area of expertise in brand identity and packaging design for the retail environment. I am pretty good at website design and search engine optimisation too (if I do say so myself).
I have won gold and bronze World Label Awards and also a Louskáček Award when I work in the Czech Republic. I have been a speaker at brand conferences. I have delivered loads of workshops about product marketing for the Queensland Government. Also, I have worked in Europe on multi-national brands like Cadbury's, Bass Breweries and Unilever. I specialise in Fast Moving Consumer Goods (FMCG) product branding and marketing.
Whilst you may only work with me, I also lead a small dedicated team whose contribution I value. My favourite marketing activity is packaging design in Brisbane from my lovely little home office.
creative ideas + perfect positioning